DeLTA Center Roundtable - Harlene Hayne (University of Otago)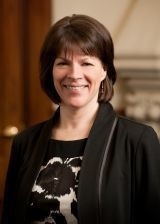 Dr. Harlene Hayne, Professor of Psychology at the University of Otago, will be discussing her research with the DeLTA Center.
"Professor Hayne is a Fellow of the Royal Society of New Zealand and of the American Psychological Society. She has served on the Royal Society's Academy Council, the Marsden Fund Council, and the New Zealand National Science Panel. She is the Associate Editor of Psychological Review and of the New Zealand Journal of Psychology and she serves on the editorial boards of 5 additional international journals.
In 2009, she was awarded a New Zealand Royal Honour, Officer of the New Zealand Order of Merit (ONZM), for services to scientific and medical research. She was recently appointed by the American Ambassador to NZ/US Fulbright Board. Professor Hayne is the Past President of the International Society for Developmental Psychobiology and is a member of other international associations, including the Society for Research in Child Development, the International Society for Infant Studies, and the Society for Applied Research in Memory and Cognition. Professor Hayne is also Co-Chair of the working party, Reducing Social and Psychological Morbidity during Adolescence, which reports directly to the Office of the Prime Minister. She is the co-director of the New Zealand Innocence Project and she is now Vice-Chancellor of the University of Otago."
From the Department of Psychology, University of Otago, 9 December 2016.
Back to top »